The Epitome of a Luxury Sedan: the Lincoln MKZ
Here at Sioux Falls Ford Lincoln, we pride ourselves on offering our drivers the finest automotive options available. Our team of vehicle experts can help you hone in on a specific option that is especially complementary to your specific lifestyle and driving needs. 
With a vehicle like the Lincoln MKZ, you can be confident that you are getting a luxury sedan in every sense of the word.
Gorgeous Looks, Brazen Abilities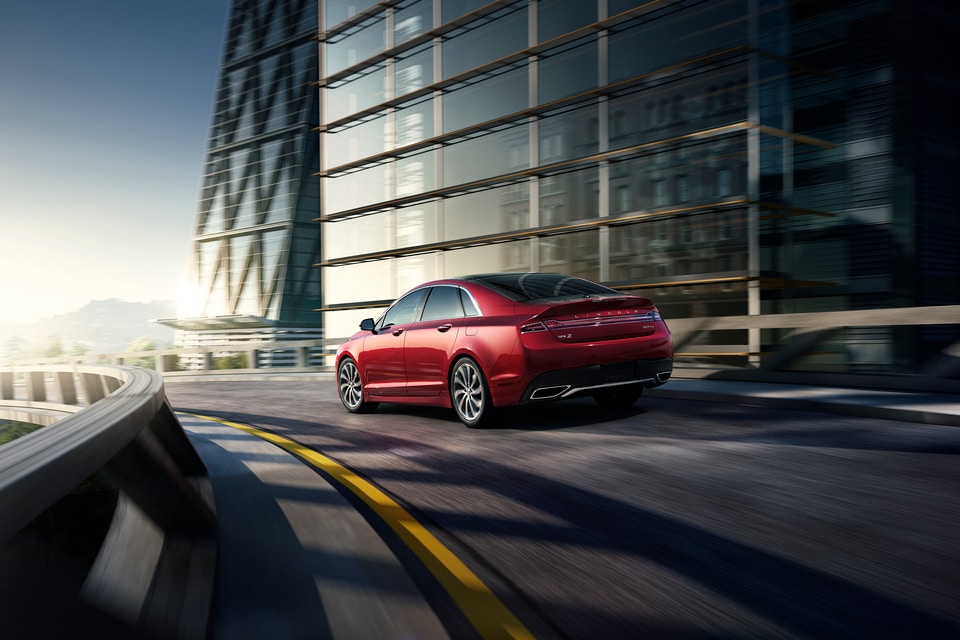 The Lincoln MKZ will immediately catch your eye, whether you see it first on our lot, or if you notice it pass you on the road. It is an alluring vehicle, with gorgeous curves wrapping around its sleek body. Its front end has precisely chiseled headlights, a confident grille, and an overall aesthetic of power and authority. Its aerodynamic roof curve helps it slice through the wind with ease, and its confident stature helps enhance your experience behind the wheel.
The interior of this sedan is just as regal. With beautifully designed seats that help ensure your comfort, no matter the length of your journey, to the incredible amount of passenger and cargo space available, to the cutting-edge, and easily accessible, features, the Lincoln MKZ has it all.
On top of this, the Lincoln MKZ has a host of incredible abilities that make it a reliable, and regal means of transportation.
Firstly, in terms of the powertrain, the Lincoln MKZ offers you a 3.0L Twin-Turbocharged V6 engine, which can deliver 400 horsepower, and 400 pounds-feet of torque. When you get the Driver's Package, you can also get benefits like Dynamic Torque Vectoring, a sport-tuned suspension, and a variety of distinct exterior aesthetic designs (like a unique grille, and painted brake calipers).
Additionally, the Lincoln MKZ offers drivers helpful features like adaptive cruise control, continuously controlled damping (which helps monitor and adjust your suspension), and electric power-assisted steering. In other words, the Lincoln MKZ has it all!
All About the Technology in a Pre-Owned Lincoln MKZ
The Lincoln MKZ is a modern vehicle in every sense of the term. It offers you a variety of entertainment and safety-based features that ensure your comfort, and security, behind the wheel.
This includes a premium audio system, enhanced active park assist, a lane keeping system, adaptive headlamps, and much more! Furthermore, as we mentioned above, all of these features are easily accessible from your driver's seat, so that you can continue to focus on the road.
In summation, the Lincoln MKZ is the epitome of a luxury sedan - beautifully designed, spacious, regal, and filled with a variety of safety and entertainment features that enhance your experience.
You can get the Lincoln MKZ in a few different trim levels:
Lincoln MKZ Premiere
Lincoln MKZ Hybrid Premiere
Lincoln MKZ Select
Lincoln MKZ Hybrid Select
Lincoln MKZ Reserve
Lincoln MKZ Hybrid Reserve
Want to Learn More About Our Selection of Lincoln Vehicles?
We don't take our job lightly here at Sioux Falls Ford Lincoln - we know how important having a vehicle is nowadays (especially one that is prepared to handle the tribulations of modern thoroughfares). That is why our team of automotive experts are here to help you find the best option available on our lot that fits your specific needs, and your lifestyle.
If you would like to learn more about our selection of Lincoln vehicles, including the Lincoln MKZ, or if you have any questions pertaining to the information above, we invite you to stop by Sioux Falls Ford Lincoln. Our team, located in Sioux Falls, SD, is always here to help you with your vehicle-related needs, so you can spend more time on the road with your dream vehicle!
Visit us today, and we can help you set up a test drive with your preferred Lincoln model!